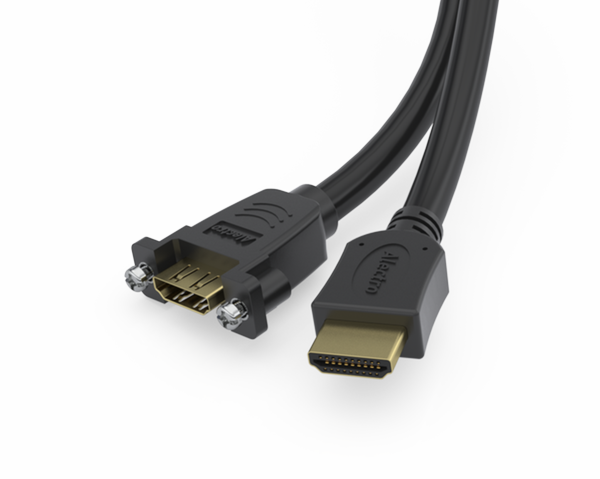 HDMI Cable 0.5m - Panel Mount Port Saver
$

9.17

Inc Per Unit
SAVE

0

%
Change to Ex GST pricing
Cable Length: 0.5 meter
Connection Type 1: HDMI Panel Mount Female
Connection Type 2: HDMI Male
Cable Type: HDMI to HDMI Port Saver Cable
Cable Gauge: 26AWG
Rating: High speed (Category 2) with Ethernet
---
This HDMI Chassis Mount - Panel Mount Cable can be used to extend a HDMI cable. The panel mount connection can be mounted to a panel or wall plate and used as a connection point. Allowing the user to easily connect and disconnect when the connection is not required. This HDMI cable can also be used as a port saver, to save the degergation or damage that can be caused from daily connects and disconnects. This part can be used as an inexpensive replacement as an alternative to damaging HDMI ports on equipment.

This HDMI panel mount cable can be used in conjunction with our HDMI wall plates. When selecting one of our HDMI wall plate for this cable, use the "Rear HDMI Connection Option" drop down menu and select "HDMI Cutout" as the connection type for your plate. This cable will be supplied with 2 x 5mm 4-40UNC screw and then can be mounted directly to your selected Alectro HDMI wall plate.

This HDMI (High-Definition Multimedia Interface) cable is rated as High speed (Category 2) with Ethernet. Capable of running at a stable 4K resolution supporting 30 fps. This HDMI cable is manufactured from oxygen free conductors and has gold plated plugs.

High speed (Category 2) with Ethernet supports 3D over HDMI. The addition of an Ethernet channel allows for a 100 Mbit/s Ethernet connection between two HDMI connected devices and allows an Internet connection to be shared.
New Shopping List Name:
Shopping List Description:

There are 1 deal(s) currently available.
Buy over $2000.00(Ex Tax) in basket total and get the assigned product for 5.00% off product price